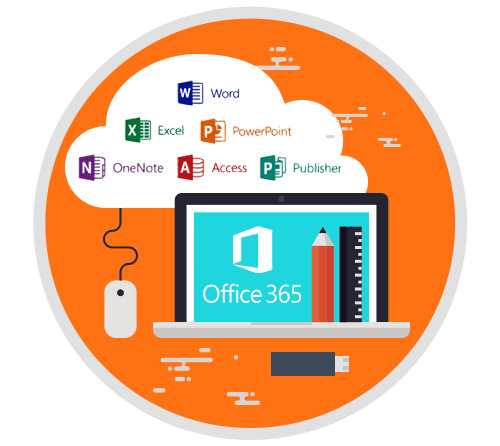 Microsoft Office 365 is Free for FLVS Students
Courtesy of Microsoft, FLVS is offering our students a complete version of Office 365 at no cost!
As a valued FLVS student, you can log in to Educator and sign up for your free Office 365 subscription. If you're under 13, please note that your parent must register you.
With Office 365, you will have access to the latest version of Word (for writing), Excel (for spreadsheets), PowerPoint (for presentations), OneNote (for organization and note-taking), and more! You can install Office 365 on up to five compatible PCs and Macs - plus five tablets, including iPad.
Your Office subscription lasts as long as you are a student with FLVS!
Here's a brief look at what Office 365 offers:
Work on Documents from Any Device. Using OneDrive and the Office mobile apps for Android/iOS, you can start your document on your desktop computer and continue editing on your tablet or phone without missing a beat.
Collaborate on Projects in Real Time. Edit and collaborate alongside your partner in Word, Excel, and PowerPoint.
Access Your Files from Anywhere. Store all of your assignments securely and access your files from any browser or any mobile platform with ease.
Always Have the Latest Office Features. With Office 365 for Education, FLVS students have access to all of the latest features and services from Microsoft as Office updates automatically.
To get started:
Enter your active course and click "Tools" in the Navbar.
Click the Microsoft "Sign Up Now" in the New Student Information column and follow the instructions.
Check your course email inbox (Educator) for the confirmation email and click: "Yes, that's me."
Complete your information and click "Start" (Note, if you are a student under 13, your parent/guardian must complete the sign-up process.)
Sign up for Self-service Password Reset.
If you are a student at one of these County Virtual Schools, you will need to obtain Office 365 through your district.
Pasco eSchool
Sarasota Virtual Academy
Lee Virtual School
St. Johns Virtual School
If you have trouble installing Office, view this guide from Microsoft for assistance.
Frequently Asked Questions
You will have access to Office 365 for as long as you are an active student. You will be prompted by email each year to re-validate your enrollment status. Once you've graduated, you will be given the option to purchase Office 365.
After passing through to your course, click the Envelope icon in the top menu bar to access the course email inbox:
Your Educator email address appears above your Educator inbox:

On the sign-in page, portal.office.com, click the Can't access your account? link:

It may take up to 10 minutes to receive the email after registering. If you haven't received the email to your Educator inbox and it's been more than 10 minutes, click the sign-up banner again and resubmit your email address to Microsoft.
In most cases, yes, older versions must be uninstalled first. Users will be alerted if there are conflicting applications installed. Additional installation issues should be reported to Microsoft Support.
Yes! You can share files from your OneDrive by entering the recipient's email address. Sharing files in Office 365 is NEVER a substitute for sending assessment submissions in Educator.
Microsoft Support is ready to help with any issues you have related to Office 365. You can visit the Office 365 support site for help via phone, email, or live chat. There is no direct number to call for support; please follow the prompts to contact Microsoft.