Zoom Responsibly: Important Safeguarding Tips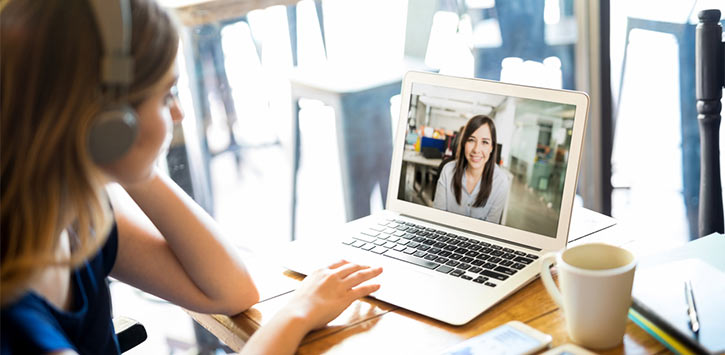 Zoom has become a popular tool helping students and teachers connect to continue learning during this time of social distancing. As more people use this platform, it's important to protect your virtual space from unwanted interruptions.
On March 30, 2020, Zoom published the blog, "How to Keep Uninvited Guests Out of Your Zoom Event."
Here are eight tips and best practices for safeguarding your Zoom classrooms and meetings to minimize disruptions.
Enable Waiting Rooms
Turn off file transfer option
Disable private chat
Disable join before host
Set a meeting password
Turn off screen sharing and only allow when necessary
Mute participants
Disable annotations
Waiting Rooms
The "Waiting Room" is a helpful feature for controlling when a participant can join your Zoom meeting. When the "Waiting Room" is enabled, the host can screen who is trying to enter the Zoom session and keep out unwanted guests.
As the meeting host, from the main room, you can send messages to participants in the "Waiting Room." The meeting host can choose to admit attendees individually or "Admit All." A teacher can verify the participant's authenticity by ensuring they have used a first and last name as well as their teacher's name. You can also send participants from your Zoom room back to the waiting room, if necessary.
Note: Waiting Rooms must be enabled prior to your meeting in your Zoom account settings. You will not be able to enable your waiting room once your meeting room is open.
File Transfers
In-meeting file transfer allows people to share files through the in-meeting chat. In your Zoom account settings, toggle this off to prevent the transfer of unsolicited pics, GIFs, memes, and other content in the chat box.
Note: Disabling File Transfers will remove your ability to transfer files to participants as well.
Private Chat
Cut back on distractions by restricting participants' ability to chat privately with one another while your session is going on. Disabling private chats can also prevent anyone from getting unwanted messages during the meeting. You may also consider "Allowing Attendees to Chat with No one" during certain parts of your Zoom session and then enabling the chat box at various times in your session.
Disable Join Before Host
Since anyone with the link can join your meeting, we recommend that you disable "Join Before Host" in your Zoom account settings. Doing so will keep participants from joining your meeting room before you arrive.
Note: You must disable "Join before host" prior to your Zoom session, from your Zoom Account.
Set a Meeting Password
For an added layer of security in your Zoom room, you may opt to require passwords in your Zoom account settings. To set a password for a meeting that you are scheduling, in your Zoom account settings, check the box next to "Require Meeting Password." A password might generate automatically after you check the box, but you can choose to customize the password for your meeting. If you choose to add a password to an already scheduled meeting, open the meeting information in "Zoom Settings," select "Edit" and then follow the directions above to add a password. Follow the same steps to update a password later.
Screen Share
To prevent participants from taking control of the screen and sharing unwanted content with the group, adjust your settings so that you're the only one who can screen share. This can be done before the meeting by locking the "Screen Share" by default for all your meetings in your personal room in your web settings. Follow these steps if you wish to disable screen share during your meeting:
Click arrow next to share screen
Click advanced sharing options
Under "Who can share?" choose "Only Host" and close the window.
Mute participants
A Zoom host can block unwanted, distracting, or inappropriate noise from other participants using the "Manage Participant" controls. Hosts will see a mute/unmute when they hover over the names of individual participants in the "Participants" window. Hosts can also choose to enable "Mute Participants on Entry" in the settings.
Disable Annotations
You can disable the annotation feature in your Zoom settings to prevent participants from writing on the screen.
Note: During a Zoom meeting, you will only see the "More" options on your screenshare control bar while you are sharing your screen or a whiteboard.
These are a few of the safeguards you can take to help better secure your virtual space. For more information, please refer to Zoom.